By Robert Labossiere
Sioux Lookout's future will be built on two things; the blossoming of First Nations communities and a world-wide craving for direct contact with nature. This should come as no surprise to anyone who lives here because these two factors are already the mainstays of Sioux Lookout's economy.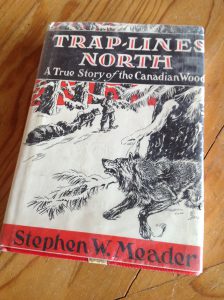 Front Street may be struggling but the airport is expanding because of demand for service to the northern communities. Fishing and hunting continue to draw thousands of visitors each year to the pristine waters and wilderness of northwestern Ontario.
I had the chance to get some intense first hand nature experience myself a few weeks ago. I took the Fur Harvest, Fur Management and Conservation course taught by two local veterans of the bush, Tom Cappel and Smokey Cole, Their knowledge of trapping technique and regulations is only surpassed by their respect for the animals they trap and the landscape those animals inhabit.
As a culture, we are coming around to understanding that the answer to environmental concerns is not to stop everything but careful management, Trapping, when part of forest and water management, is a form of conservation.
Not everyone needs to know how to skin a muskrat but everyone should appreciate how beaver, fisher, martin and mink have sustained human habitation in this place for thousands of years. It is only within a very small sliver of modern time that we have come to doubt our relationship to nature, to see ourselves in a negative way, as a force of destruction rather than respectful cohabitation and interdependence with the natural world.
If you are interested in learning more about the history and craft of trapping, the public library is a good place to start. Over the past hundred years, there has a been a small but consistent stream of books published about hunting, trapping, harvesting and living off the land.
The Trapper's Bible by Eustace Hazard Livingston has hundreds of pages of folklore and charming hand-made drawings, but learning how to set up a spring snares and dead fall traps are of little more than historical interest today.
The real bible for those serious about trapping is a book produced by the MNR. Wild Furbearer Management and Conservation in North America is in the reference section of the library, available for use in the library only.
If you doubt the potential trendiness of "back to the land-ism" the library stocks a series of books called Bushcraft, authored by Dave Canterbury, that have been ranked on the New York Times best seller list.
On the fiction side, you can't do better that Trap-lines North, A True Story of the Canadian Woods. This is a juvenile fiction book, written for young readers but no less captivating for adults. Teenagers Jim and Lindsay Vanderbeck are forced to take over their father's trapline for one winter. The book is full of lore and has a plot-line that makes for a real page turner.
Interest in wilderness lore and craft will only continue to grow. The basic human attraction to nature and the role First Nations can play in showing us how to better connect to the land could make for a powerful combination.
For now, trapping seems to be a thing of the past. The prices for raw pelts are dismal. Trapping can't be much more than a hobby for those who want the experience and believe in preserving traditions too easily lost. But some day, well, who knows. A lot can change and quickly once a tipping point is reached.
Find the author online: